N3rdistan: Electrofying and Poetic
vendredi 18 septembre 2015 à 11:51 GMT

So you say there is no Arabic experimental music? Walid Benslim the founder of N3erdistan wants you to think again and we're bringing you the answer for sure. As we have happily announced earlier, Artisthick has the pleasure of being a media sponsor of the music festival L'Boulevard for it's 16th edition and one of the artists/bands that caught our attention the most is the electro-poetry project N3rdistan who will be playing on L'boulevard stage this year. Here's who they are and why you don't want to miss them when they come to your town!
Walid Benslim
A former winner of the Tremplin, the musical competition organized within the Lboulevard festival, Walid went on a few musical adventures before he embarked on the eerie electro project N3erdistan. He began with Rap, winning the Moroccan National Rap competition, then moved to south of France where he founded an Oriental Metal band named Celsius. These projects seem to have equipped the young Walid with the right influences to start his ongoing project N3rdistan.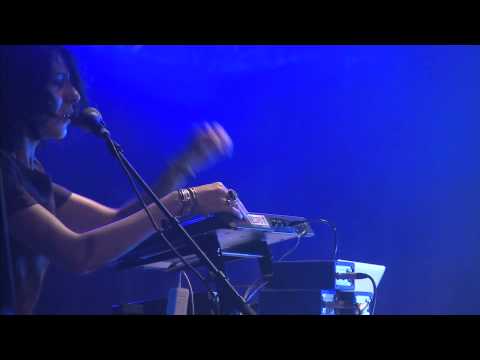 N3erdistan, 2.0 Outcasts
N3rdistan then sees the light in 2011, the band puts together an original mix of instruments and talents: Benjamin Cucciara at the guitar, Kora and Tambin, Widad Broco a vocalist and a Dj and Nazim Moulay for the drums the Udu and the Tombak. The instrumental genius is not the only reason N3rdistan stands out on the electro scene, the lyrics are verses of Arabic poetry from Ahmad Matar, Abu al-Baqa al-Rundi, Mahmoud Darwich and a few other legendary Arab poets. These texts plus others written by Walid in Darija usually imply heavy philosophical and political meanings giving the listener a one of a kind intellectual and artistic experience, a beautiful mix between centuries-old poetry, the latest music technologies and intense performances. To Walid « N3rdistan » is the name of the virtual safe haven of thoughts and creativity, more simply it's the internet, land of the nerds. Indeed, we can find all the band's original music, mixtapes, and covers on its various social media pages. The combination of electro music and eclectic but angry poetry and rap suddenly makes sense, the band is playing a fictional national anthem of the N3rdistan, a digital asylum where all digital outcasts like Walid and his bandmates come to find shelter, create, dream and sing for hope.
Walid has made a long journey and he is coming back home to Casa, L'boulevard tonight Friday 18th, we'll be there and we hope to share the one of a kind experience with you!